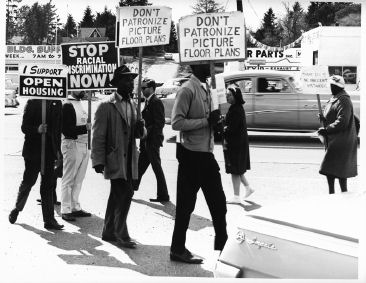 Housing Actions
Seattle CORE's Efforts to Desegregate Housing in Seattle
Fifty years ago Seattle was essentially a segregated city. Without a single sign saying "Colored Only" neighborhoods were single-race, by prejudice and even by law. If you were Negro, you lived in the Central Area, which was kept within the same boundaries even as its population doubled. If you were white, you almost certainly lived in an all-white neighborhood, where most realtors felt duty-bound to keep non-whites out. But some of us believed that people of any color deserved a chance at the "American dream" of a house.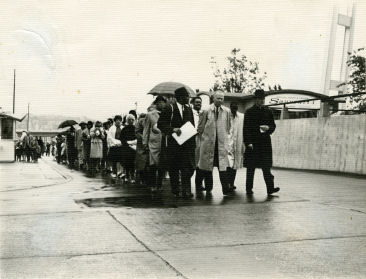 A small committee of Seattle Unitarians bought a tiny ad inviting anyone to phone them who would sell or rent a home to a minority. Then a few Bellevue Unitarians knocked on doors behind "For Sale" signs, asking if the owner would sell regardless of race. This was the beginning of the "Fair Housing Listing Service," that identified housing available in "white" neighborhoods of Seattle and its suburbs. Dozens of churches and community groups joined, and CORE publicized it widely, all over the Central Area. To introduce Negroes to more possibilities, CORE's Housing Committee organized Operation Windowshop, a weekend when Negro families would just go out and look at realtors' Open Houses. The real estate industry found this prospect so threatening that it pulled 80% of its ads from the newspapers, it cancelled most Open Houses, and most realtor's offices closed. What was needed was a change in the law.
From left, Reverend Samuel McKinney, Reverend Paree Porter behind Reverend John Adams, and Father John Lynch leading demonstrators from Seattle Center to join marchers starting from the federal courthouse, St. James Cathedral, and First AME Church for open-housing rally at Westlake Mall, March 7, 1964. (Courtesy of Seattle Post-Intelligencer collection, 1986.5.9654, Museum of History and Industry, Seattle)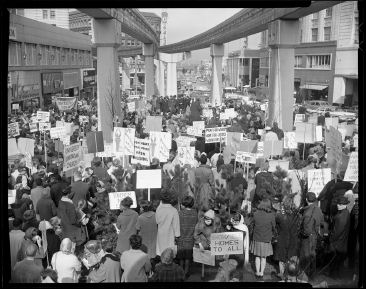 After years of talk but no action, the Seattle City Council put a fair housing ordinance on the ballot to be voted on. CORE and many others campaigned hard. Archbishop Connolly urged all Catholics to vote Yes, for justice and morality. Protestant churches sponsored nearly 1000 coffee parties in favor of the ordinance. But on Election Day, the citizens of Seattle voted two to one to keep housing segregated. We were devastated. CORE returned to its usual methods - we gathered facts, tried to talk with managers, and then picketed and sat-in for many weeks at a major real estate developer.
It wasn't until after Dr Martin Luther King Jr. was assassinated that Seattle changed its law, and housing became open to everyone based only on their finances.
After marching from four different locations, open-housing supporters at rally under the monorail at Westlake Mall, March 7, 1964. (Courtesy of Seattle Post-Intelligencer collection, 1986.5.9654, Museum of History and Industry, Seattle)