Seattle CORE Summary of Achievements
The Congress of Racial Equality investigated, negotiated and acted, often successfully to change our community from a segregated world to one much closer to a world of equality.
EMPLOYMENT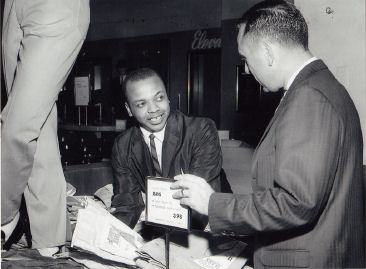 In the first two years through negotiations and direct action, Seattle CORE produced 250 jobs for Negroes, more in that period than any federal, state or city agency concerned with racial discrimination. Most of these represented a break-through in job categories and better wages... Negro firemen, bus and truck drivers, clerks in retail sales, store managers, meat cutters, secretaries, restaurant workers and many others. Other firsts, as the results of CORE's insistance, was the use of the phrase "Equal Opportunity Employer" in all advertising including billboards and the first public acknowledgment that a firm had signed an agreement with CORE to hire Negroes. Today those born after the 1960s can hardly imagine the all-white segregated employment scene in Seattle before CORE took to the streets.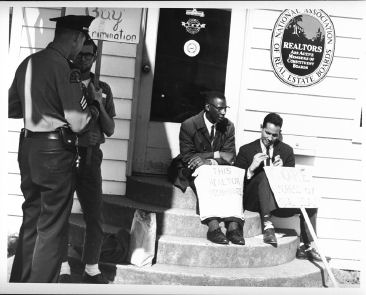 HOUSING
Before the city's open housing law was passed in April of 1968 (15 days after the assassination of Dr. Martin Luther King Jr.), CORE exposed the bias and bigotry of the real estate industry with Operation Window Shop and months of sit-ins and picket lines. CORE joined the Fair Housing Listing Service, along with the NAACP, the Urban League, and many church communities both Negro and white to break down housing barriers. Fair-minded citizens willing to sell to any qualified buyer listed their homes. This resulted in opening home sales in all white areas for Negroes and other minorities.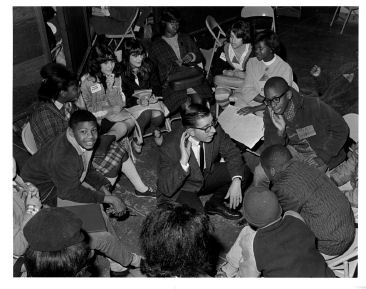 SCHOOLS
CORE's efforts, included a detailed proposal for integrating the schools, picketing and finally holding a two-day boycott of the Seattle public schools -- with the option for children to attend a "Freedom School." This was an overwhelming success, with nearly 4,000 students attending, two-thirds Negro and one-third white. The Seattle School board finally agreed to institute training in diversity for teachers; hire more Negro teachers and administrators; include Negro History in the curriculum; and pay for transporting children both Negro and white that were part of the Voluntary Transfer Program. Attitudes about integration have changed over the years. Having effective schools and providing the best education for all our children is still a challenge today.
Reverend Ralph Mero, East Shore Unitarian Church, in discussion with middle school students at Mount Zion Freedom School, March 31, 1966. (Val Valentine/Courtesy of Seattle Post-Intelligencer collection, 1986.5.11603.1, Museum of History and Industry, Seattle)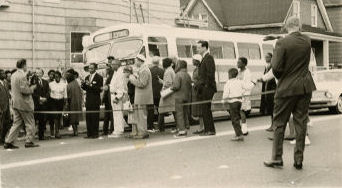 CROSSTOWN BUS
In 1966 another practical legacy included CORE's efforts, working with other community organizations, in gaining north-south transportation, a much needed link between Franklin High School and the University District -- now known as the #48.
FUNDRAISING
Supporting National CORE's civil right's struggle in the South meant raising money - and we did that too. An event at the Moore Theater starring Dick Gregory and Dizzy Gillispie, and a public lecture at the Egyptian Theater by the famous author James Baldwin brought in thousands of dollars. Seattle CORE was able to support various projects including registering people to vote and providing bail for those being arrested with these dollars.