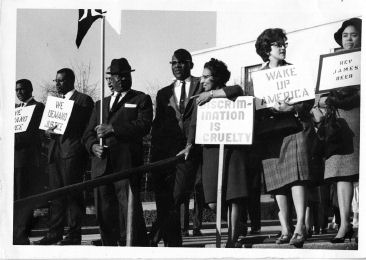 Legacy and Challenges
CORE was founded by a handful of ordinary people. Even at its strongest it included only a small percent of Seattle's population. Yet these ordinary people accomplished some extraordinary results. We opened hundreds of jobs for Negroes. We laid the groundwork for outlawing housing discrimination four years later. We initiated improvements in the school system.
How did we achieve these changes? We worked together intensively and for long hours. We planned with a careful eye, making sure we had our facts right. We worked to leverage our effort with what was happening elsewhere. And our moral arguments were often persuasive because we were persistent but nonviolent.
The Seattle of 50 years ago is unrecognizable today. But deep problems still infect our society and its many ethnic groups. In education, for example, lowered expectations can contribute to young people not learning enough to be employable. America's unacknowledged racism is most glaring in our policing and justice system, which, at every level, treats people of color more severely than whites.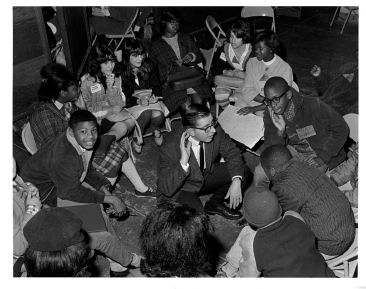 The challenge remains to correct the flaws in our nation.
Ask yourself what issue you want to work on. Inform yourself (for example, by reading The New Jim Crow by Michelle Alexander). In ordinary conversations, raise objections to opinions that you find narrow. Ask if a nearby school needs tutors or mentors. Volunteer for Page Ahead, to help children learn to love reading. Help build kids' self-confidence through your volunteer work at a local Boys and Girls Club.
Whatever issue you choose, join and support a group -- or with a few friends form a group -- to address a problem. Investigate the facts. Identify an achievable first goal. Look for ways to leverage your effort. Enlist more advocates. Don't give up. And you too can accomplish results that improve our country.
Reverend Ralph Mero, East Shore Unitarian Church, in discussion with middle school students at Mount Zion Freedom School, March 31, 1966. (Val Valentine/Courtesy of Seattle Post-Intelligencer collection, 1986.5.11603.1, Museum of History and Industry, Seattle)
Seattle Civil Rights and Labor History Project
KCTS Special - Seattle Civil Rights Struggle: Local activists who fought segregation and racism in Seattle in the 1960s