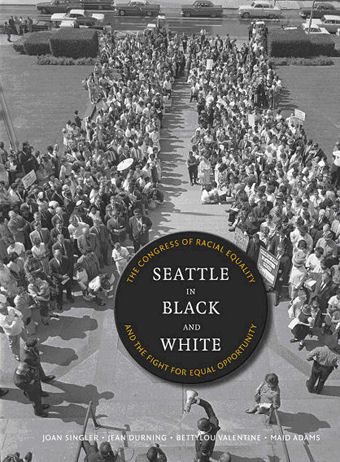 Seattle in Black and White
The Congress of Racial Equality and the Fight For Equal Opportunity
Seattle was a very different city in 1960 than it is today. There were no black bus drivers, sales clerks, or bank tellers. Black children rarely attended the same schools as white children. And few black people lived outside of the Central District. In 1960, Seattle was effectively a segregated town.
Energized by the national civil rights movement, an interracial group of Seattle residents joined together to form the Seattle chapter of the Congress of Racial Equality (CORE). Operational from 1961 through 1968, CORE had a brief but powerful effect on Seattle. The chapter began by challenging one of the more blatant sites of discrimination in the city, local supermarkets. Located within the black community and dependent on black customers, these supermarkets refused to hire black employees. CORE took the supermarkets to task by organizing continuous picketers until stores desegregated their staffs. From this initial effort, CORE launched campaigns to increase employment and housing opportunities for blacks and to address racial inequalities in Seattle public schools.
The members of Seattle CORE were committed to transforming Seattle into an integrated and just society. Written by four active members of Seattle CORE, this book not only recounts the actions of Seattle CORE but also captures the emotion and intensity of this pivotal and highly charged time in America's history.
Note: The authors have used the word "Negro," the correct term at the time, to introduce readers to the 60's. Later, as the language evolved we used "African-American" and "Black" which are more familiar to people today.
Book published by University of Washington Press, 2011 with the assistance of a grant from the V Ethel Willis White Endowed Fund. This website published with the assistance of a grant from 4Culture.
(Facing page) Rally in front of federal courthouse in Seattle in support of March on Washington, August 28th, 1963. Note crowd staying off the grass and leaving space for people with business at the courthouse. (Courtesy of Seattle Post-Intelligencer collection, 1986.5.5529, Museum of History and Industry, Seattle)
Mary Henry Book Review
Seattle in Black and White can be purchased from the University of Washington Press, University Book Store, Elliot Bay Book Company, Village Books, Third Place Books, Powell's Books, Amazon.com and many other book retailers.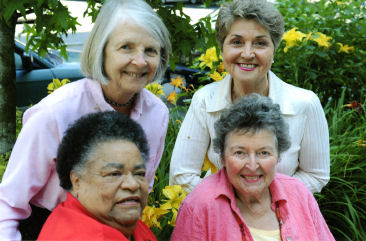 Authors
Joan Singler (top right) was a founding member of Seattle CORE. Jean Durning (top left), Bettylou Valentine (bottom left), and Maid Adams (bottom right) joined soon thereafter.
Authors' Photo Courtesy of Walter Bodle
Presentation by Authors
Book Endorsements
Norm Rice, CEO of the Seattle Foundation and former Seattle Mayor
"Seattle in Black and White is a story rich with personal accounts of courage, honor, and a belief that the American dream is for all. It weaves the threads of activism, courage, brilliance, and love into a luxurious canvas for all to view."
Congressman John Lewis, National Civil Rights Leader
"An eyewitness account from one corner of our country of the energy and moral power of the civil rights movement. It is also a call to continue the work of building 'the beloved community.'"
James N. Gregory, author of The Southern Diaspora
"Seattle needs this book. It tells the remarkable story of the activists who pierced the veil of complacency in the early 1960s and forced the city to begin dismantling its systems of segregation."
Quintard Taylor, author of The Forging of a Black Community
"A powerful reminder that the campaign for racial equality had to be waged in every corner of the nation including the Pacific Northwest."